Handmade Ribbon
Carefully crafted by hand in my Oregon studio using only natural plant and earth dyes. For the eco-conscious bride, designer or photographer who also craves high quality, colour and texture that photographs beautifully.
Why shop with Nettle + Silk?
Quality, Reliability and Customer Service
With over 18,000 delighted customers since 2015 on Etsy, Nettle + Silk is now striking out away from that corporate shopping hub. Support a small, independent shop with thousands of 5 star reviews!

Vegan Options
Bamboo Ribbon
100% plant fibre and dyed only with plant and earth dyes, these bamboo ribbons have a hand torn edge and a gorgeous drape.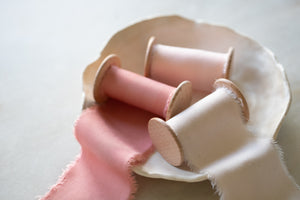 For Crafty Types
Whatever you love to make..
Handcrafted ribbon will elevate your craft and add that extra touch of luxury.
For Styled Shoots
For Photographers and Stylists
Add hand crafted silk ribbon to your styling kit and raise your game a little. Naturally-dyed silk photographs beautifully and these ribbons can be used again and again or gifted as part of your branded photography boxes.
Nettle +Silk
Pairing eco-friendly and 100% natural silk, bamboo and linen with a passion for beautiful colour and the very best quality.
Shop Now